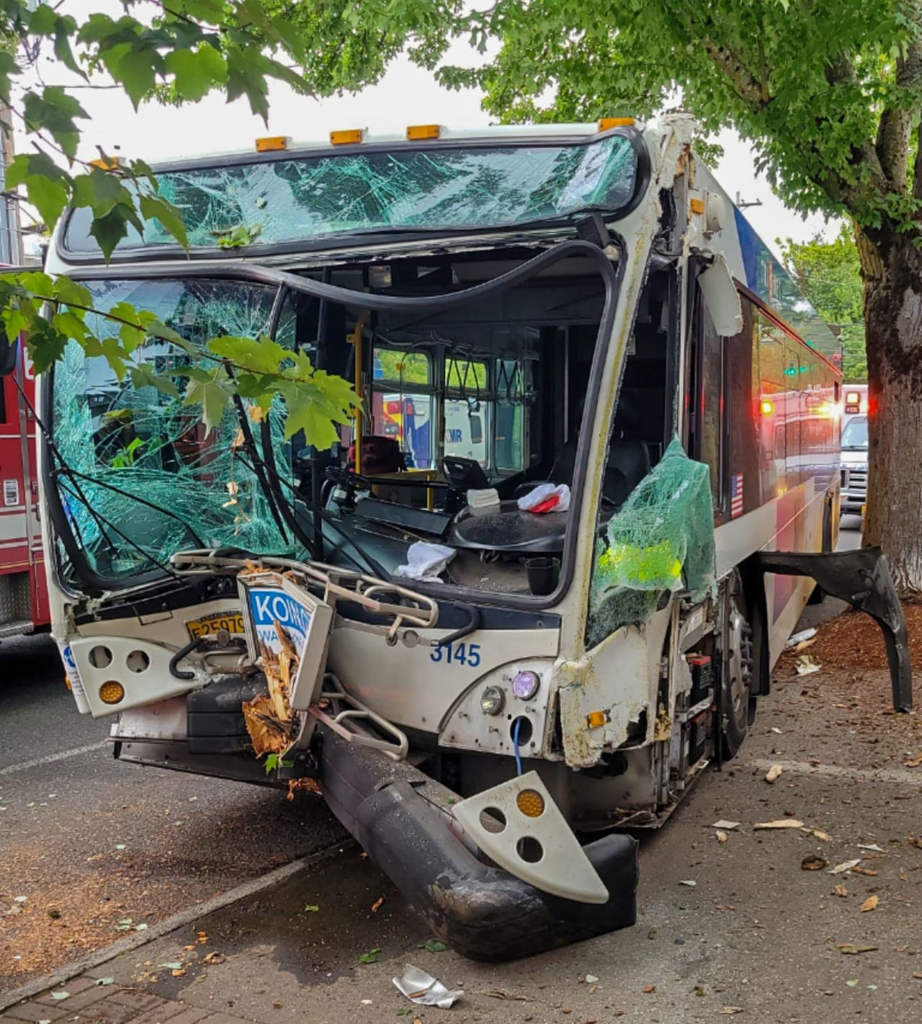 According to a report from Oregon Live, six people were injured after a TriMet bus crashed into a tree in the northeast part of Portland. The bus accident—which is still under a comprehensive investigation—happened in the Laurelhurst neighborhood. In this article, our Portland bus accident attorney provides an overview of what we know about the crash and highlights the key things that victims should know about their rights and options after a passenger bus collision in Oregon. 
What We Know: TriMet Bus Struck Tree, Serious Injuries Reported
Local law enforcement officers have confirmed that a TriMet bus crashed into a tree on Wednesday morning (August 30th) in Portland's Laurelhurst neighborhood. Unfortunately, the collision resulted in several serious injuries. The driver and at least five passengers were hurt in the accident. The TriMet bus accident happened around 8:00 AM, near the intersection of Northeast Glisan Street and Northeast 45th Avenue.
Notably, the official cause of the crash has not yet been determined. That being said, the preliminary information indicates that the TriMet bus veered across the center line for unexplained reasons. The bus sustained major damage in the crash. The driver and three passengers were hospitalized due to the severity of their injuries. The Northeast Portland TriMet bus accident remains under a more in-depth investigation. The Multnomah County Sheriff's Office is investigating the matter.
Bus Accidents Can Cause Serious Injuries to Passengers
While buses are considered to be a relatively safe form of travel for passengers, very serious injuries can occur if the proper safety precautions are not taken by bus drivers and bus operators. Indeed, bus passengers can be vulnerable in a collision. Here are some of the most common injuries:
Whiplash and Neck Injuries: Sudden stops or collisions can jerk passengers forward or backward, causing strains or tears in the neck muscles and ligaments.
Sprains and Strains: The force caused by a bus crash can stretch or tear muscles and ligaments. Without proper medical treatment, sprains and strains can linger.
Head and Brain Injuries: Passengers can hit their heads on seats, windows, or other objects, leading to concussions or even severe traumatic brain injuries (TBIs).
Fractures and Broken Bones: Lack of seat belts and the force of impact can result in broken bones, particularly in the arms, legs, or ribs. Broken bones are medical emergencies.
Internal Injuries: Internal bleeding and internal organ damage are both a serious risk in a bus accident. As internal injuries may not be apparent, professional medical care is a must.
Spinal Cord Damage: The impact of a crash can damage the spinal cord, potentially leading to paralysis or other neurological disorders.
What to Do If You are Injured While On a Passenger Bus in Oregon
Hurt in a bus accident in Portland or elsewhere in Oregon? It is crucial that you know how to protect your health, safety, and legal rights. Whether you were hurt while on a publicly operated bus or a privately operated bus, a proactive approach is essential. Here are three key steps to take after a bus accident in Portland, Oregon:
Seek Immediate Medical Care for Injuries: After a bus accident, your health and safety are paramount. They always take the top priority. A severe injury requires immediate emergency care. Beyond that, even if you believe your injuries are minor, you still need to see a licensed Oregon doctor. Some injuries—conclusions, whiplash, internal bleeding, etc—may not manifest symptoms right away.
Thoroughly Document What Happened: Similar to other types of motor vehicle collisions, Oregon has an "at-fault" standard of liability for bus accidents. The more evidence you have, the easier it will be to prove fault and bring a successful claim. To the best of your ability, write down details about the bus accident. Relevant information includes the bus operator, the bus number, the names and contact information of witnesses, and photos of the scene.
Consult WIth a Portland Bus Accident Lawyer Before an Insurer: You cannot rely on any bus company—public or private—or any insurance company to look out for your rights or interests after a bus accident. Protect yourself by consulting with an experienced Portland, OR bus accident lawyer right away after a serious crash.
Understanding Liability for TriMet Bus Accident Claims
TriMet is the public transportation agency in the Portland metropolitan area of Oregon. It operates bus, light rail (MAX), and commuter rail (WES) services, providing transit options for residents and visitors throughout the region. TriMet is a publicly operated bus. You can still hold TriMet legally liable for your bus accident injuries—just the same as a private bus company.
However, you have less time to do so. There are special legal regulations that apply to public entities. In order to make a claim against TriMet or other public transit entity in Oregon, you generally have to submit a Notice of Claim within 180 days (6 months). An experienced Portland bus accident lawyer can help you prepare your initial TriMet Claim Report form. 
Injured Bus Accident Victims Deserve Financial Compensation
Johnston Law Firm, P.C. is committed to helping bus accident victims in Oregon secure the full and fair financial compensation that they rightfully deserve. You may be entitled to recovery for economic and non-economic damages after an accident. However, unfortunately, you cannot rely on a defendant or insurer to look out for your best interests. We help TriMet passenger bus accident victims in Portland seek compensation for the full extent of their damages, including:
Emergency room care;
Medical bills and other health care costs;
Physical therapy;
Loss of wages and loss of earning power;
Pain and suffering;
Mental distress;
Long-term disability;
Physical disfigurement; and
Wrongful death.
Schedule a Free Consultation With a Portland, OR Bus Accident Lawyer Today
At Johnston Law Firm, P.C., our Portland bus accident attorney is an aggressive, experienced, and justice-forward advocate for injured victims and their families. If you were hurt in a TriMet bus crash or any other type of bus accident, we are here to protect your legal rights and financial interests. Call us now or connect with us online to set up your free, no commitment consultation. With a law office in Portland, we represent bus accident victims throughout the wider region.