For the third year, Johnston Law Firm, P.C. has offered the LSAT Prep Course Scholarship, which is designed to help one deserving full-time college student in the U.S. prepare for the LSAT exam and attend law school. After reviewing applications from students who we believe represent the top of the student population, we'd like to congratulate Tiffany Nicasio as this year's scholarship winner and recipient of $1000! Congratulations!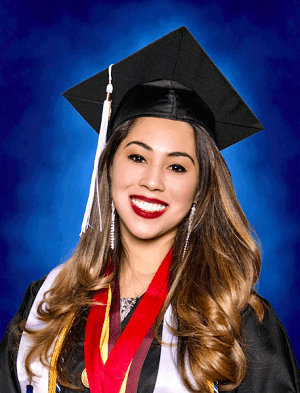 As part of her application, Tiffany was required to submit an essay describing what she'd do with a law degree, and how society would benefit. She has graciously given us her permission to publish her essay. We invite you to read it below.
"You're already too smart for a girl," my father said. At nine years old, I was speechless and confused. "Don't you want me to be smart?" I asked. Being the first biracial member of my family was challenging because it naturally made me question the world around me. Why were things the way they were? I questioned everything because I saw things differently from everyone else. In the end, I realized it was because I, myself, was just that – different. My very existence broke barriers and it was in me that the values of my opposing cultures often clashed. Being different brought on change, and I learned the hard way that most people do not welcome change, and therefore, most people do not welcome anyone different. On the surface, I always wondered why I stood out in family pictures, and why other people couldn't tell we were related even when my family was standing right next to me.
My home life growing up was always precarious if not dangerous. My parents divorced when I was seven years old. My mother was already abusive prior to their separation due to her borderline personality disorder, and the divorce only exacerbated her condition. My grandmother became my primary unofficial guardian after the divorce in an attempt to buffer my mother's abuse. As a retired immigrant from the Philippines, my grandmother had no income and no pension. She supported me and fed me through welfare and food stamps. In the short time my grandmother was alive, she gave me all she had and more: she taught me how to love my mother and myself, despite the most unforgivable of circumstances. She instilled in me a resilience and a drive to pursue dreams that, at the time, seemed nearly impossible. Most of all, my grandmother taught me the virtues of altruism; her gracious benevolence has touched the lives of many throughout the world – from the Philippines and back – and it lives on through me.
After her death, I was passed along between several relatives. I supported myself financially before the legal working age by buying candy wholesale from Costco, with Christmas money, and selling it at school. I slept on couches and treadmills for many years and fended for myself financially because no one wanted to take financial responsibility for me after my grandmother became ill. I did this for many years until I was legally able to work at 16 years old. To avoid social services, my mother switched me from school to school every year after the divorce. Because these schools varied from public to private, I never received a consistent education (standards of education and curriculum varied from public to private). I managed to maintain an A average, overall, but my math grades greatly suffered due to the inconsistencies of my education. I also struggled to keep up with school due to language barriers – English is my third language (my mother is Filipino and my father is Dominican).
My grandmother died when I was thirteen years old, but her influence and memory will last a lifetime. She often told me I reminded her so much of a man I never got the chance to meet, my grandfather. She would say that I was him reincarnated. My grandmother was amused by the little similarities we somehow shared: how we both liked to sleep with our feet sticking out from under the covers and how we both had a calling towards reading, writing, photography, and the law. But most of all she was amazed by how much I had also inherited his intelligence, work ethic, drive, ambition, and unrelenting conviction. My grandmother was convinced I would go to law school and become an incredible attorney.
Being the first biracial child of my family was never easy, especially in my early years. There was no denying how different I was from the rest of my family. But my grandmother embraced that difference and reassured me that appearances could not dictate who I was inside. In the times that I questioned whether my own grandfather could accept me when so many didn't, my grandmother reassured me that he would – that there would be no denying I was also his. My grandmother showed me the value of family when I felt like I had none. She also taught me the value of perseverance. Regardless of whatever chaos I had endured the night before, she still sent me to school the next day stronger than ever. It was through her example that I learned suffering was not weakness. Instead, suffering can be used as a tool towards empowering yourself to help others as she had helped me.
My parents had argued about seemingly everything, but the one thing they could initially agree on was my education. However, doing well in school made them happy, which in turn made me happy because suddenly being different, being too smart for a girl, also meant that I was a scholar. All that changed when it came time for me to go to college. "You're already too smart for a girl," my father told me once more, "Either get a job or get married." The Dominican Republic has a long history of keeping women out of higher education, and so it was not uncommon for a Dominican father to tell his daughter to either get married or find work. Once again, I questioned my world. I questioned why my father suddenly did not support my academic aspirations, and I pushed even further. When it came to getting a college degree, I had only one person standing in my corner, and that was my mother. But even then, I only had her support half the time, because her borderline personality disorder made her increasingly physically and verbally abusive.
This time around, I did not let my father's words or my mother's condition make me think there was something wrong with me. I didn't stop to question why I was too smart for a girl, why that made me so different, or why that was such a bad thing. This time around, I used my father's words to catapult myself onto the Dean's list. When I lost my financial aid and my father refused to financially support my education, I used my father's words to push even further by supporting myself through college, and winning scholarship after scholarship for academic excellence. I then waited until I reached the legally recognized age of financial independence, 24 years old, before finally returning to school full time. I soon realized New York City's cost of living was draining my academic grants and scholarships. I used my father's words to make opportunities when there were none by moving to Texas.
When I transferred to the University of Texas at Arlington, I immediately sought out the Pre-Law Center. Upon joining several honor societies, I was tasked with researching individuals who had accomplished everything I wanted to achieve in life. Every person I came to admire and aspire to become had one thing in common: a Juris Doctorate. After years of doubting my abilities, I decided I would finally set all my doubts aside to pursue my dreams of going to law school, even if I wasn't the traditional law school candidate. The Pre-Law Center at the University of Texas at Arlington became my home. It was there that I became surrounded by other aspiring attorneys and made the greatest of friends. These amazing future attorneys of America inspired me through their unrelenting support and comradery – they fought for my dreams just as hard as they fought for their own. It was through the Pre-Law Center that I became even more active in my aspiring field by serving as Vice President of the Pre-Law Society, winning Best Mediator in UTA's first year competing at Mediation Nationals, and taking part in AT&T's and Haynes & Boone's Pre-Law mentorship programs.
U.S. Supreme Court Justice Sotomayor expressed the importance of diversity when she said, "Whether born from experience or inherent physiological or cultural differences, our gender and national origins may and will make a difference in our judging." My dreams of becoming an attorney are carved out of the hardships and sacrifices of the attorneys that precede me – attorneys that have historically paved the way for my success. It is through their example that I know my dreams are possible; they are living proof that my dreams can become reality. I am applying to law school today to ensure that their efforts continue to come full circle.
U.S. Supreme Court Justices like Thurgood Marshall and Sonia Sotomayor are examples of how one lawyer can change the world: they fought for equality and diversity. Over the years I have learned I am diverse by every definition possible: racially, culturally, and socio-economically. Although I have a different background that isn't traditional of the typical law school applicant, I believe my experiences would contribute to the academic experience of other students by shedding light on societal issues I have personally lived. Unlike other applicants who may find it embarrassing to discuss issues on adversity they have personally experienced, I do not shy away from sharing my own because as an attorney, at one point or another, I know I will be called upon to represent indigent individuals who have lived the same hardships. It is with this calling burning in my heart and mind that I fight for the dreams of my peers just as hard as I fight for my own.
Winning this scholarship will make all the difference in the world to me because finishing my education has always been a struggle due to financial and family hardships. In experiencing trials of adversity, I have demonstrated utmost resilience and perseverance. My accomplishments as a student have shown great promise: I was consistently on the Dean's List and became a member of several honor societies including Pi Sigma Alpha and the National Society of Collegiate Scholars. A month after I graduated with honors from UTA, I was awarded the opportunity to work as a Graduate Teaching Assistant at my alma mater until the beginning of law school in the Fall of 2018. Working as a GTA enables me to continue to lead and mentor other pre-law students through guidance and example. I look forward to bringing continued academic achievements and honors in law school.
To me, the decision to go to law school meant taking a quarter million dollar bet on myself. It was a dream that for one reason or another was seemingly out of reach. Today, I know none of my accomplishments would have been possible if not for the shoulders of giants I stand upon. Today, I understand that even though I often had to do things on my own, it did not mean I was alone. I owe my success to everyone who believed in me along the away – everyone from my high school English teacher, Nancy Battista, to my undergraduate Pre-Law advisor, Amber White, and even my parents who gave me the very best of the little they had to give. While not intentional, this especially includes my father, who brought me a whole new meaning to the sentiment of being "too smart for a girl."
by Tiffany Nicasio