Drunk driving in Portland is a major offense, and if you're stopped by police and found to be intoxicated behind the wheel you'll be facing some serious penalties. If you should happen to be involved in an accident while driving under the influence, the stakes are even higher.
Accidents due to drunk driving often result in serious injuries and even death. Under Oregon law, a person is guilty of drunk driving if their blood alcohol content level is 0.08 or greater.
The Portland Police and Oregon Highway Patrol have zero tolerance for drunk drivers, and offenders are prosecuted to the fullest extent of the law. Simply driving while intoxicated can result in heavy fines, the loss of your license, as well as the potential for jail time, and you could face criminal charges as the result of a DUI related accident.
Before you get behind the wheel after having even a few drinks, be aware of the potential consequences if your decision to drive drunk results in injuries to others. To illustrate a few of the penalties associated with drunk driving, we created this visualization.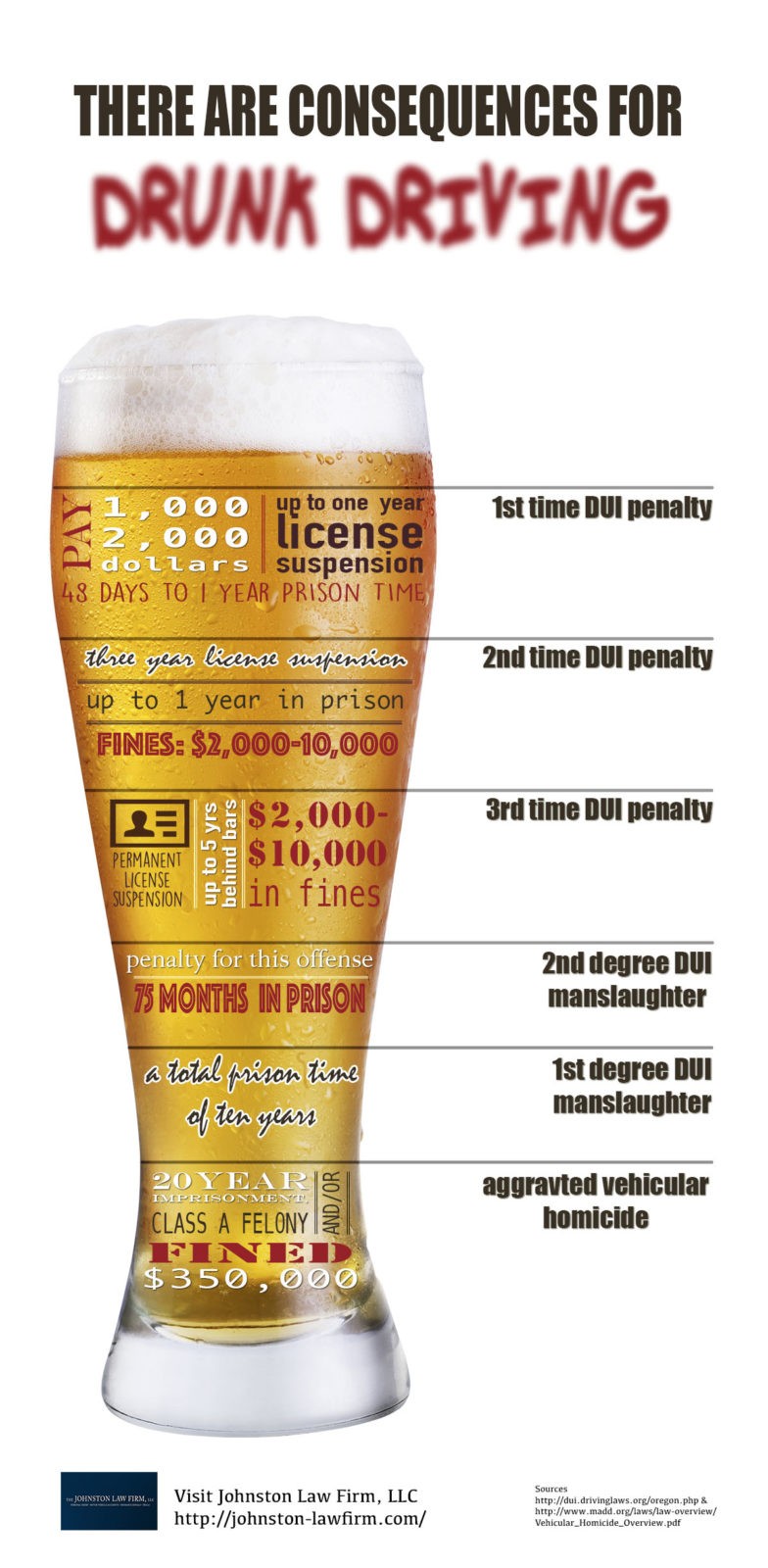 Embed Code
DUI Accidents Resulting In Injuries
If you drive above the state legal blood alcohol content level and are involved in an accident which causes injuries to others, in the eyes of the law your conduct will be considered reckless and negligent. Under Section 163.165 of the Oregon Revised Statutes, you may be charged with assault in the third degree. Usually this is a Class C felony, punishable by up to 5 years in prison. In the case of injuries due to drunk driving accidents, the state views the motor vehicle the drunk driver operates as a weapon, and the charge is raised to a Class B felony, punishable by up to 10 years in jail and a $250,000 fine.
DUI Accidents Resulting in Death
DUI accidents can – and frequently do – cause serious injuries that result in death. In the case that a passenger or another driver dies as the result of injuries sustained in a drunk driving accident, under Oregon law, the drunk driver may be charged with criminal homicide. There are several charges classified under criminal homicide a driver may face. These include:
Manslaughter in the first degree: Under Section 163.118 of the Oregon Revised Statutes, a drunk driver can be charged with manslaughter if the victim is killed as the result of a driver recklessly and negligently operating a motor vehicle while intoxicated. Manslaughter in the first degree is a Class A felony, punishable by up to 20 years in prison and a $375,000 fine.

Aggravated vehicular homicide: Under Section  163.149 of the Oregon statutes, aggravated vehicular homicide is also a Class A felony, and occurs when a victim dies as the result of a drunk driver who shows an extreme indifference to human life.
With both of these charges, it's important to remember that a drunk driver can get more jail time than just the maximum amount listed. More than one particular charge may be – and frequently is – filed against a drunk driver. For example, a driver who has been previously convicted of DUI may be facing a felony for this second drunk driving arrest, as well as the charges relating to the injuries caused by the drunk driving accidents. Additional charges can result in jail sentences of 30 years or more.
Contact a Portland DUI Attorney
If you or someone you know has been involved in a car accident as the result of drunk driving, contact an experienced DUI attorney immediately. At the Johnston Law Firm, we have the experience you need in handling car accidents related to drunk drivers, and understand the many factors that are often involved in these case. Call our Portland accident attorneys today for a free  review of your case.