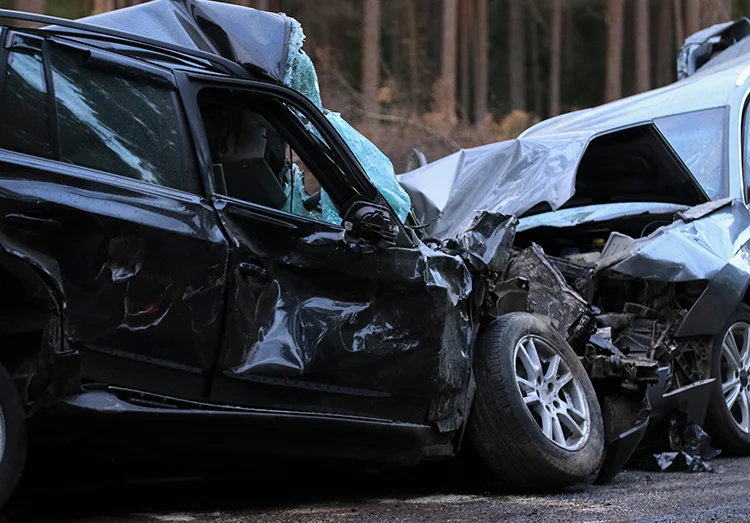 Car accidents in Oregon pose serious hazards to drivers and are more likely to happen on the heavily traveled highways and interstates that zig-zag across the state. Unfortunately, higher speeds and the overall amount of traffic on these roads mean that even a relatively minor crash can escalate, impacting numerous other motorists nearby.
Multi-vehicle crashes are unfortunately common and often result in serious, potentially fatal personal injuries. Our Oregon car accident lawyer explains more about how they happen and how victims and their families can get compensation for their losses.
Multi-Vehicle Crash In Portland Prove Fatal For One Driver
According to a late October 2023 KGW8 News report, a major multi-vehicle car accident in Portland caused the death of one driver and left numerous others involved suffering serious harm. It happened on a weekday afternoon on Interstate 5, near North Alberta Street in North Portland.  
Police are continuing to investigate the case and have not revealed many of the details or underlying causes. They do confirm that one of the drivers involved was killed, and multiple others were taken to local hospitals for treatment of personal injuries. The crash closed the road for hours after and caused lengthy delays for drivers throughout the area.
Unfortunately, multi-vehicle car accidents in Oregon are common on the I-5 and on other major arteries in the area. When they do occur, they can impact multiple other motorists. Factors that increase the risk of these types of dangerous crashes include:
Heavy traffic;
High rates of speed;
Slick roads due to adverse weather;
Poor visibility due to fog;
The presence of truckers;
Aggressive behavior on the part of motorists.
How Do Multi-Vehicle Car Accidents In Oregon Happen?
According to the state Department of Transportation (ODOT), over 45,000 car accidents in Oregon happen each year. Unfortunately, major multi-vehicle crashes are common, particularly on heavily traveled roads, and often result in potentially life-threatening personal injuries. 
When even a relatively minor crash happens, it can impact others in the vicinity. Drivers may be forced to slam on their breaks or swerve into opposing lanes, triggering a chain reaction. While this may be unavoidable in some cases, in others, reckless and aggressive driving are contributing causes. Behaviors that can increase the risk of being involved in a multi-vehicle car accident in Oregon include:
Tailgating other drivers;
Improper passing;
Failing to yield;
Being distracted;
Failing to follow posted traffic signs and signals.
Compensation For Oregon Car Accidents When Multiple Drivers Are To Blame
When you are injured due to the reckless behavior of other motorists, you have the right to hold them liable for your costs. Multi-vehicle crashes are among the most complex types of claims, as multiple drivers may share a portion of responsibility for the harm you suffered.
Under the Oregon Revised Statutes (ORS 31.600), the legal theory of comparative negligence applies. This means that not only can each driver be held liable for their portion of the blame, but you may still be entitled to compensation, even if you are partially at fault. The following example illustrates how this might work: 
You suffer personal injuries in a multi-vehicle crash with two other drivers;
Your medical expenses, lost wages, and other costs total $100,000;
An investigation determines that each of the other drivers is 40 percent to blame for the crash (for a total of 80 percent) while your actions were 20 percent responsible;
The amount you would be entitled to would be $80,000 (total losses minus 20 percent), with each driver paying $40,000.
Under the theory of comparative negligence, you are entitled to compensation no matter how blame is apportioned, provided you were not more than 50 percent responsible for causing the crash.
Injured In A Multi-Vehicle Crash? Contact Our Oregon Car Accident Lawyer
Multi-vehicle car accidents in Oregon can cause serious, potentially life-threatening personal injuries. Unfortunately, they are common on major roads throughout the state and are among the most complex claims to resolve. To get the compensation you need to recover from your injuries, get the Johnston Law Firm on your side.
Our Oregon personal injury lawyers have decades of combined experience. You can count on us to provide the caring support and trusted legal guidance you need throughout the claims process. We can investigate your case and gather the evidence needed in court. To get the maximum amount you are entitled to, call (503) 546-3167 or contact our office online and request a consultation today.