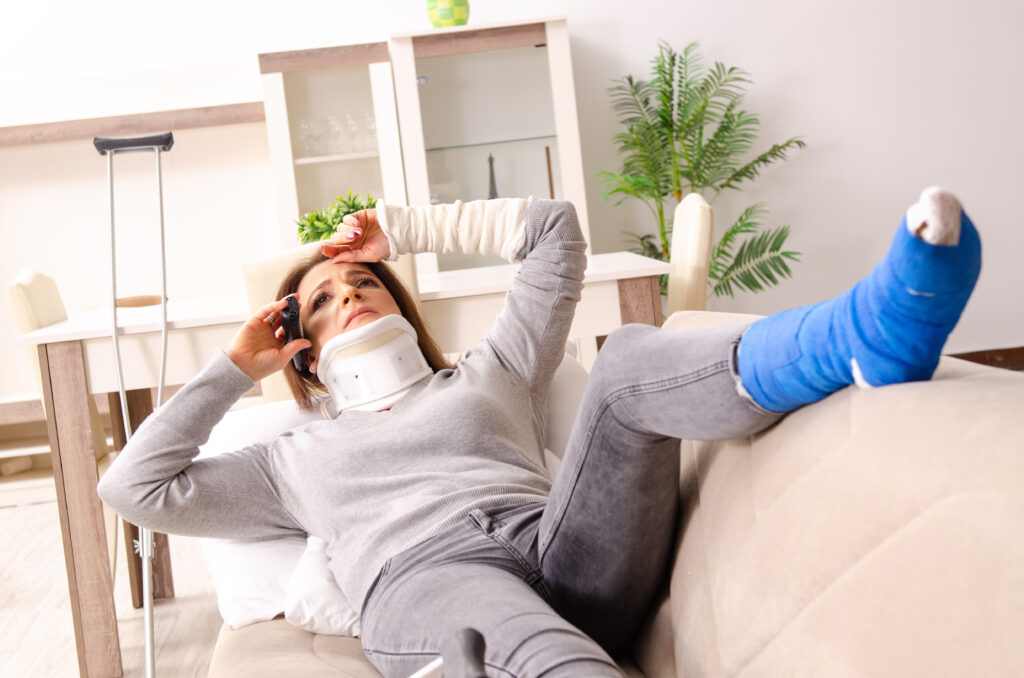 Personal injuries in Oregon are commonly attributed to 'accidents', but negligence on the part of others is typically to blame. In this situation, you have the right to hold them liable for medical costs, lost wages, and other losses you suffer as a result. Insurance policies they have in place can help cover your costs. Our Portland personal injury attorneys explain four important factors to consider before settling your claim.
Factors To Consider Prior To Accepting A Personal Injury Settlement
Slips and falls, sports and recreational accidents, and motor vehicle accidents involving drivers, bicyclists, and pedestrians are all common causes of personal injuries in Portland. When they happen due to the negligence of others involved, you have the right to hold them accountable for your losses.
Negligence means they either engaged in reckless behavior that put you at risk or failed to take reasonable precautions to prevent others from suffering harm. Depending on the situation, they may have insurance policies in place that can help cover your losses. However, when dealing with these companies, be aware that protecting your best interests is not their priority.
According to the Insurance Information Institute (III), insurers make billions of dollars per year off policy premiums. One of the ways they protect their profits is by reducing payouts. A common tactic is to offer an immediate settlement while the victim is still vulnerable and recovering. Before accepting their offer, consider the following four factors: 
1. Your total property damages. 
In a car, truck, or motorcycle accident, you may have suffered extensive property damage. Insurers often push for repairs rather than replacement. Even if your vehicle is a total wreck, make sure you are reimbursed for the cost of a suitable replacement rather than the current value of the vehicle.
2. Total costs of medical care.
Medical costs for even relatively minor personal injuries can easily total tens of thousands of dollars. It is important to not only get reimbursed for current medical costs but any future diagnostic testing, treatment, medications, and physical therapy you may require.
3. Lost wages during recovery. 
At the same time you are dealing with major medical expenses, you are likely facing lost wages as well. These should be reimbursed by the insurer. Take as long as you need and follow your doctor's instructions before returning to work or resuming other activities. Doing so too soon could cause a worsening of symptoms.
4. Long-term impacts you are likely to suffer.
Common types of personal injuries, such as broken bones, sprained or torn muscles, and injuries involving the head, back, or neck, can cause symptoms that impact your health for years to come. Make sure your settlement includes coverage of any future medical care you may require, as well as compensation for lost wages due to lingering impairments.
Time Limits For Resolving Oregon Personal Injury Claims
According to the National Institutes of Health (NIH), most accidental injuries take anywhere between six to 12 months or longer to fully recover from. The more severe the injury was, the longer it would take to heal. 
Before accepting any insurance settlements, make sure you have reached a level of maximum medical recovery. This is the point at which you have undergone any recommended medical treatments, and ongoing symptoms are likely to result in long-term disabilities.
Reaching a point of maximum medical recovery takes time. While insurers may try to pressure you into accepting a settlement, be aware that, under the Oregon Revised Statutes (ORS 12.110), you have up to two years after the accident to file a claim. 
While this may seem like a long wait, it allows your attorney to investigate your case and determine the total amount of compensation you need to cover both current and future expenses, helping you avoid out-of-pocket costs.
Request A Consultation With Our Portland Personal Injury Lawyers Today
When personal injuries happen, you have only one chance to get the compensation you need to recover. While insurers may offer you an immediate settlement, be aware that this is likely to be considerably less than what you are entitled to or need to cover your total costs. Once you accept, you waive your rights to any future claims. 
At the Johnston Law Firm, we negotiate with insurers on your behalf, helping you get the maximum amount you are entitled to. Call (503) 546-3167 or contact our Portland personal injury attorneys online and request a consultation today.