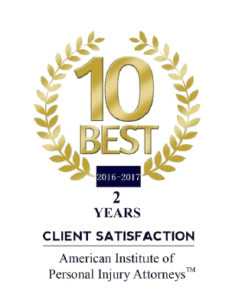 When serious accidents and injuries impact you or a loved one, you want an attorney you can trust working on your case. Along with professional legal representation to help you get the maximum amount of compensation you need, you want someone who offers the kind of caring, compassionate client support you need during this difficult time.
At the Johnston Law Firm, attorney Marc Johnston makes providing the highest quality client service one of his top priorities. We are honored by the recognition Marc has received in this area, and are proud to announce his nomination for the second year as one of the 10 Best Personal Injury Attorneys in Oregon for Client Satisfaction.
Dedication to Client Satisfaction
Each year, the American Institute of Personal Injury Attorneys (AIOPIA), an impartial, third-party rating service, names the top 10 personal injury attorneys for each state across the country. In order to qualify, an attorney must meet certain qualifications:
Nomination by the Institute, or by one of the attorney's peers or clients;

Attainment of a high degree of professional achievement and success in their area of practice;

Possess and maintain a consistently high level of client satisfaction.
Attorney Marc Johnston has the distinction of being named by the AIOPIA as among the Top Ten Personal Injury Attorneys in Oregon for two years in a row. Marc stands out in the legal profession for his knowledge, skill, and the active role he takes in representing clients.
While his career includes leading roles in landmark cases, being a published author, and participating in numerous legal organizations, it is his dedication to client satisfaction that puts him at the top of the field. He provides clients with comprehensive service, keeping them well informed and letting them know their concerns matter, while working diligently to obtain the best possible results in each case.
Providing the Professional Legal Representation You Need
The Oregon Health Authority reports personal injuries send close to 20,000 people in our area to the hospital each year, while claiming the lives of more than 1,700 victims. Even when injuries sustained are seemingly minor, they can result in heavy medical expenses and lost wages, while potentially impacting the person's health for years in the future.
At the Johnston Law Firm, we are dedicated to protecting the rights and interests of people injured in these so-called 'accidents'. In many cases, the injuries you suffer are actually the result of reckless or negligent conduct on the part of others. We help victims and their families get the compensation they need to recover, either through negotiations with insurance companies, or by filing a personal injury lawsuit.
Let Us Help You Today
When personal injuries put your health and financial security at risk, contact the Johnston Law Firm, either by phone or online. We can arrange a free consultation with attorney Marc Johnston, who can advise you on the actions needed to help you get the most successful results in your case.