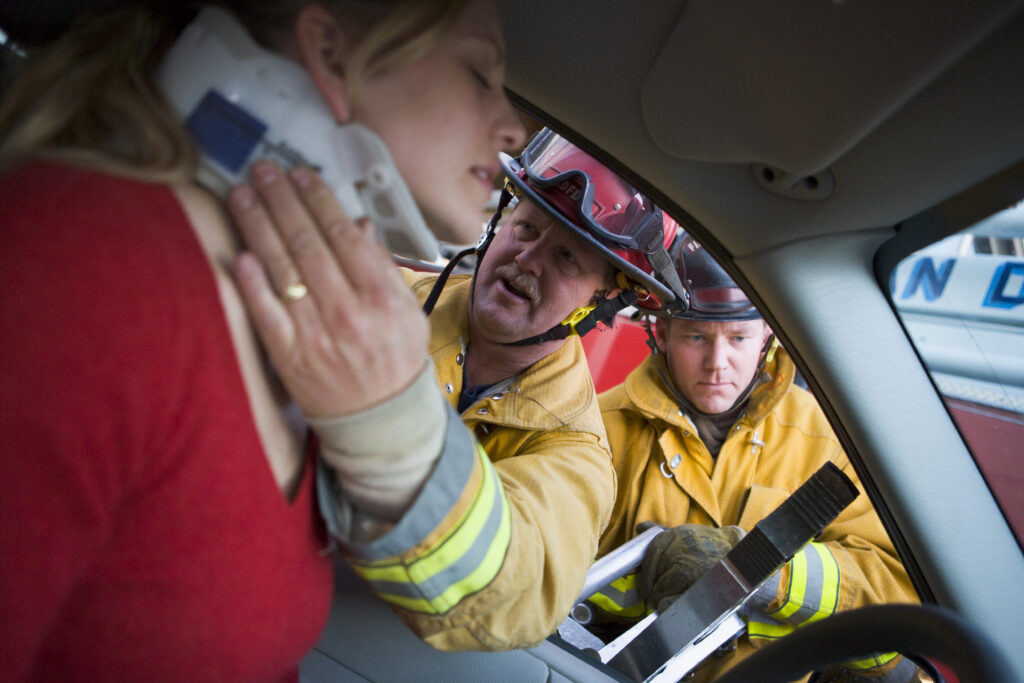 When a motor vehicle accident in Oregon happens, emotions tend to run high in the aftermath. Drivers, passengers, and witnesses involved generally look to first responders to document the incident and maintain a sense of order. Unfortunately, it does not always happen this way. Our Oregon car accident lawyer explains a recent incident in which first responders are accused of a conflict of interest and other problems that can arise with police, firefighters, and other first responders at crash sites.
Oregon Motorcyclist Threatens Lawsuit Against First Responders
An incident involving first responders highlights some of the potential problems that can arise at the scene of a crash. According to an August 2023 KOIN News report, the victim in the case is threatening to file a lawsuit against the state and the Central Oregon Coast Fire and Rescue District (COCFRD), claiming a conflict of interest and other ethics violations. 
The dispute stems from a motorcycle accident that occurred over the summer, in which the motorcyclist was injured due to the reckless actions of a driver on Highway 101 in Bayshore. The victim claims that as he was riding, an SUV in an opposing lane abruptly pulled in front of him and slammed on their brakes, causing the motorcyclist to skid and crash in an effort to avoid a collision.
Seal Rock emergency responders had jurisdiction and immediately arrived at the scene. However, only seconds later, the COCFRD fire chief and a firefighter with the unit arrived in an official vehicle and claimed they would be taking over. As it turned out, the fire chief's wife was the driver of the SUV.
According to those at the scene, the chief tried to blame the motorcyclist for the crash. A verbal altercation ensued, which almost turned physical. In the aftermath, ongoing disputes between the parties are expected to eventually end up in court.
Potential Problems In Dealing With First Responders
While most of us do what we can to avoid putting ourselves in harm's way, police, paramedics, and firefighters are trained to rush toward danger. They put their health and safety on the line each day on the job, and see a variety of tragic situations play out in front of them regularly. Unfortunately, this can take a toll on both their mental health and their behavior.
According to the Substance Abuse and Mental Health Services Administration (SAMHSA), first responders often deal with excessive fatigue, overwhelming stress, their own chronic health concerns, and job dissatisfaction, all of which can influence how they perform at their jobs. Problems this can create when responding to motor vehicle accidents include: 
Inherent biases against certain motorists or specific types of crashes;
Lack of empathy for victims involved;
Preconceived ideas regarding the underlying causes of the accident;
Downplaying the incident;
Cutting corners in terms of gathering pertinent facts;
Mistakes and errors in recording information.
Protecting Your Rights In Dealing With Car Accident First Responders
One of the first steps you need to take when any type of motor vehicle accident in Oregon happens is to notify local law enforcement or the Oregon State Police immediately. In some cases, other motorists or bystanders may have already alerted them, but make the call yourself, just in case. 
It is important to appreciate that first responders have a job to do and to treat them respectfully. However, at the same time, take these steps to protect your rights:
Get the name of first responders at the scene and the agency they work for;
Make sure they file an accident report and get contact information for all drivers;
Avoid making any type of statements that could implicate you in the crash;
Note the exact location, take photos if possible, and get contact information for witnesses, regardless of whether or not first responders do this as well.
If a first responder is either directly involved in a crash or knows one of the victims, they should refrain from inserting themselves into the investigation or otherwise attempting to use their influence. In this situation, make note of pertinent details, maintain your composure, and discuss the matter with our Oregon motor vehicle accident lawyer immediately in the days after.
Request A Consultation With Our Oregon Car Accident Lawyer
At the Johnston Law Firm, we protect the rights of accident victims, determining how crashes happened and getting them the compensation they need to recover. To request a consultation, call (503) 546-3167 or contact our Oregon motor vehicle accident lawyer online today.