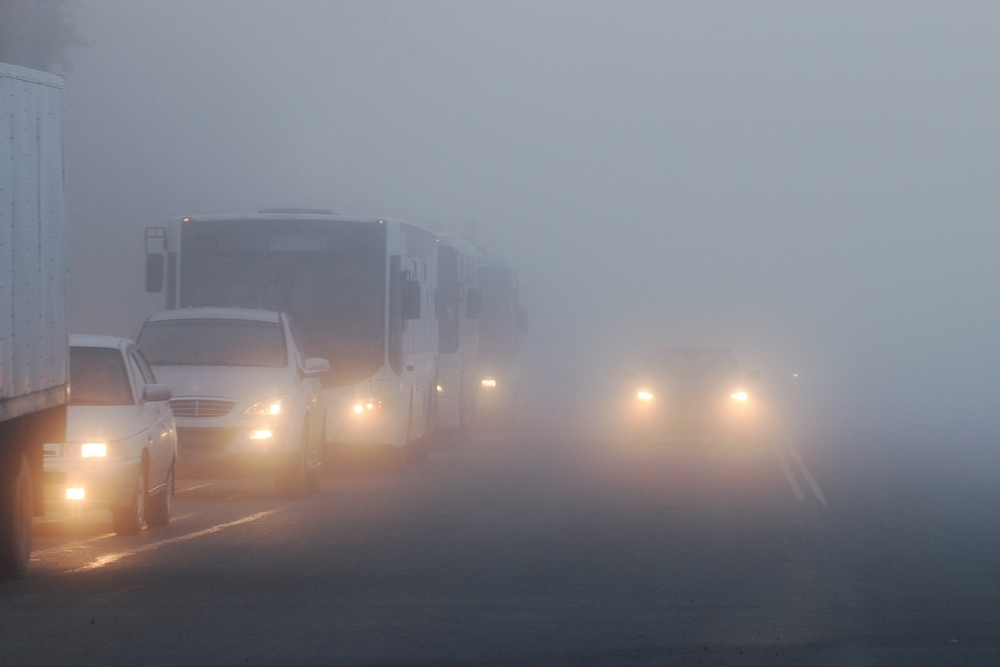 Fall is a favorite time of year for most Oregon residents. The air is crisp, the leaves are changing colors, and there are a variety of fun outdoor activities to explore. However, changes in the weather can create traffic problems, particularly when roads are covered in fog. A recent Oregon truck accident that resulted in a major, multi-vehicle pile-up serves as a warning, emphasizing the potential hazards. Find out more about how foggy fall weather increases crash risks, how to protect yourself behind the wheel, and your rights in filing a claim.
Multi-Vehicle Truck Accident In Oregon Emphasizes The Dangers of Driving In Fog
A recent truck accident in Oregon on Interstate 84 ended up impacting more than a dozen other motorists. According to a late September 2023 report by the Herald and News, the multi-vehicle crash happened in Umatilla County, close to the Washington State border.
While investigations to determine the details surrounding the accident are ongoing, the Oregon State Police are blaming it on two primary factors:
Heavy fog throughout the area, resulting in lower visibility;
The high rates of speed most motorists travel on the road.
These two factors combined increase the overall risks of a collision. In this particular case, the damage was devastating. Of the two semi-trucks involved, one burst into flames while the other truck, as well as several other vehicles, suffered extensive damage. The police report that a total of 17 drivers were impacted by the pile-up. Multiple victims were transferred to local hospitals.
Foggy Weather Makes Truck Accidents More Likely To Happen In The Fall
Unfortunately, truck accidents in Oregon are likely to become more common with the change in season. October is typically the foggiest month of the year in our area, which the NASA Earth Observatory claims is due to moist Pacific air moving inward and settling in the valleys of mountain ranges throughout the Pacific Northwest. Major highways and interstates run through these valleys and are heavily traveled by truckers. It is important for them and other motorists to be aware of the risks. 
Weather plays a major role in increasing overall crash risks. According to the Federal Highway Administration (FHWA), more than 20 percent of all car accidents in the U.S. are weather-related. Fog is particularly dangerous and can have the following impacts on drivers: 
Reduced visibility, making it difficult to see the road or other drivers nearby;
Wet, slippery surfaces due to condensation, making it harder to maintain tire traction;
Less responsive steering, leaving you less able to respond to unexpected events;
Slower response times due to weather conditions, making collisions with other motorists more likely to happen;
All of these pose risks to regular motorists but can make operating a truck or driving anywhere near one even more hazardous.
Protecting Yourself When Driving In Fog
Motorists are encouraged to take additional precautions during foggy fall weather to reduce the risks of truck accidents in Oregon and other types of crashes. The National Weather Service recommends the following tips: 
Drive at reduced speeds and allow plenty of time to reach your destination;
Give other drivers plenty of space on the road;
Avoid tailgating, improper passing, failing to yield, and other aggressive driving behaviors;
Avoid using your high beams, which increase glare;
Allow additional time for braking and avoid slamming on your brakes, which can cause you to skid.
Be particularly careful when sharing the road with truckers during foggy Oregon weather. Keep in mind they are more difficult to maneuver than other vehicles, require longer stopping distances, and have large 'no zones' along the front, back, and each side of the rig. Driving in these areas causes motorists to disappear completely from the driver's view and increases the likelihood of impacts in the event any type of crash does occur.
Our Oregon Truck Accident Lawyers Help You Get Compensation For Your Injuries
Despite taking precautions, truck accidents in Oregon can still happen. Unfortunately, when they do, they often impact multiple other drivers on the road. Between dealing with the trucking company and other motorists involved, these tend to be the most complex types of claims. To get the compensation you need to recover from your injuries, reach out to the Johnston Law Firm.
Our Oregon truck accident lawyer provides the professional legal representation you need throughout the claims process, helping you get the maximum amount you are entitled to in a settlement. To request a consultation, call (503) 546-3167 or contact our office online today.