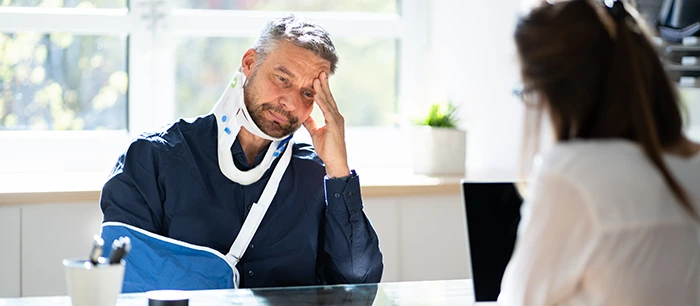 Personal injuries in Oregon typically happen as a result of accidents in which others are to blame. While they often occur quickly and in a matter of just a few minutes, the harm you suffer can impact your health, your ability to work or engage in social activities, and your overall well-being for years into the future. This is particularly true in the case of back and neck injuries. Our Oregon personal injury lawyer explains more about how they happen, what you can expect during recovery, and how to get the compensation you are entitled to.
Accidents That Can Result In Back and Neck Injuries In Oregon
According to statistics from the Centers for Disease Control and Prevention (CDC) back and neck injuries are a leading cause of chronic pain and disability in Oregon. They typically happen as a result of accidents for which the negligent actions of others may be to blame. Among the most common causes include: 
Car accidents: Even a seemingly minor fender bender can cause serious back and neck injuries. Reckless driving on the part of others, such as speeding, running red lights, or driving while drunk or distracted, is often responsible.
Pedestrian and bicycle accidents: The reckless actions of motorists pose serious risks for bicyclists and pedestrians. These can cause back and neck injuries that have devastating consequences for victims.
Slips and falls: These commonly occur in public places and occur due to the recklessness of property owners in either failing to maintain their property or to warn visitors of wet floors and other potential hazards.
Sports and recreational accidents: One of the most common causes of back and neck injuries, these can happen due to lack of proper training or failure to follow standard safety precautions.
What To Do When Back and Neck Injuries Happen
Injuries to the back and neck can cause a debilitating amount of pain and, according to Johns Hopkins Medicine, may take long months or even years to fully recover from. However, in the immediate aftermath of an accident, symptoms may be subtle at first. It is important to be aware of this and to take the following actions any time back or neck injuries are suspected:
Report the accident immediately to the appropriate authorities so that an accident report can be filed;
Get the contact information for all parties involved, as well as any witnesses at the scene;
Seek medical care right away and follow your doctor's instructions regarding testing and treatment;
Refrain from returning to work or other activities until cleared to do so by your doctor.
Back and neck injuries often involve damage to vertebrae and discs, as well as sprained or torn muscles, tendons, and other soft tissues. Not getting the appropriate medical care or not following your doctor's instructions increases the odds of chronic pain and long-term disabilities.
How To Get The Compensation You Need To Recover
The Mayo Clinic warns that any type of damage to the spine can result in back and neck injuries that have long-term impacts on your health. Unfortunately, even after long months or years of treatment, they can still cause severe pain and ongoing physical impairments. When these injuries happen due to negligence on the part of others involved, you have the right to seek compensation. 
You may be entitled to compensation through insurance policies the at-fault party has in place. However, avoid settling your case too quickly, as this could leave you paying large amounts out-of-pocket. If insurance is unavailable, be aware that you may also have the right to file a personal injury lawsuit against those involved. Compensation available often includes:
Coverage of all current and future medical expenses, including ongoing treatment, medications, and physical therapy;
Payment for lost wages and future lost income if your injuries prevent you from working in the future;
Additional amounts for pain, suffering, and any lost enjoyment in life if your injuries prevent you from engaging in your prior hobbies and activities.
Discuss Your Case With Our Oregon Personal Injury Lawyer
Back and neck injuries in Oregon can impact your health and financial security for years into the future. To avoid paying out-of-pocket for the costs involved, discuss your case with the Johnston Law Firm before speaking to insurers or accepting any settlements. We negotiate with insurance representatives on your behalf to help you get the maximum amount you are entitled to and need to recover. To request a consultation, call (503) 546-3167 or contact our office online today.