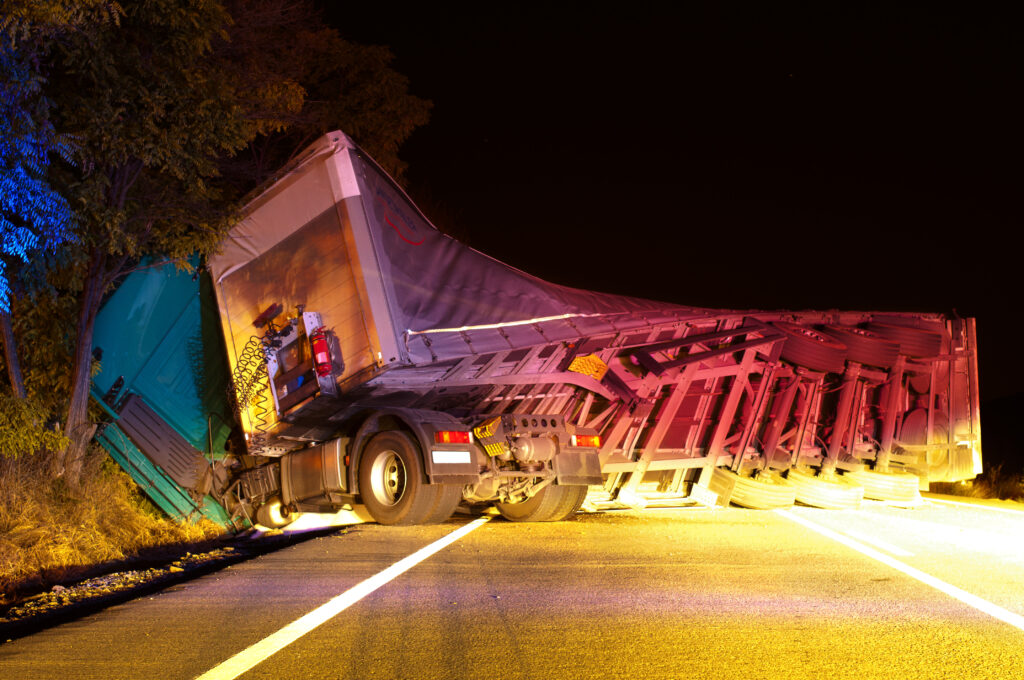 Of all the different types of crashes and collisions that can occur on local roads, truck accidents in Portland have the potential to be the most severe. Victims are often left with serious, debilitating, and potentially life-threatening personal injuries. Our Portland truck accident lawyers explain more about the risks and how to get the compensation you are entitled to in a claim.
Truck Accidents Can Result In Fatal Injuries In Portland
Statistics from the National Safety Council (NSC) indicate that close to 120,000 truck accidents happen throughout the United States annually and nearly ten percent of these crashes end up proving fatal. Unfortunately, both numbers continue to climb each year. Considering the number of large trucks moving throughout Oregon and the Portland area, residents here are at an increased risk. 
With the massive size and weight of semi-trucks, tractor-trailers, and other big rigs, truck accidents in Portland often impact others on the road and it is these motorists who tend to suffer the most severe harm. A recent case highlights how devastating these crashes can be for victims.
According to a May 11, 2023 KPTV News report, a recent tow truck accident in Portland proved fatal for one of the drivers involved. It happened at roughly 1:00 p.m. on a weekend, at the intersection of Southeast Duke Street and Southeast 72nd Avenue. The truck driver was reportedly unharmed in the crash. Unfortunately, the other motorist involved was pronounced dead at the scene. The police have not released any investigative findings, such as how and why the accident happened or whether the truck driver would be charged. 
What Makes Truck Accidents In Portland So Dangerous? 
The Oregon Department of Transportation (ODOT) reports that close to 2,000 truck accidents happen throughout the state each year. While trucks represent just a fraction of vehicles on the road, they are responsible for a high portion of serious and life-threatening personal injuries. Some of the factors that can make truck accidents in Portland so dangerous and potentially devastating include: 
The average semi-truck can be up to 72 feet long. This means that when any type of accident happens, multiple vehicles are likely to be involved.
Commercial vehicles can weigh up to 80,000 pounds. This provides protection for the truck driver but increases personal injury risks for other motorists involved.
Their large size and weight make trucks harder to navigate. This means it is more difficult to stop or change lanes suddenly, increasing the likelihood of crashes.
Trucks are often found on major highways and interstates. Higher speeds in these areas increase the risk of fatal injuries.
Seeking Compensation For Truck Accident Injuries In Portland
Truck accidents in Portland can happen for a variety of reasons. Recklessness on the part of the truck driver, improper loading practices, failure to provide proper maintenance, and general negligence on the part of the trucking company may all play a contributing role.
If you or someone you love is injured, you have the right to seek compensation. Insurance the truck driver or the trucking company has in place may help offset some of your costs. However, be aware that trucking companies typically have teams of attorneys on their side and it is not uncommon for these claims to be denied or disputed.
When problems with insurers arise, if your injuries are severe, or when multiple parties are at fault, it is important to be aware that you also have the option to file a truck accident lawsuit in Portland. Compensation available in this type of claim through the Multnomah County Civil Court includes: 
Coverage of all property damages;
Payment of both current and future medical expenses associated with your injuries;
Reimbursement for current lost wages and future losses in income or benefits in the event of ongoing disabilities;
Compensation for your pain and suffering;
Funeral expenses and other costs, in the tragic event that truck accident injuries prove fatal.
Our Portland Truck Accident Lawyers Are Here To Help
If you or someone you love is injured in a truck accident in Portland, reach out to the Johnston Law Firm. Trucking companies have teams of attorneys on their side. To get the compensation you need to recover, get our legal team on yours. 
As experienced Portland truck accident lawyers, we conduct a full investigation into your case, determining exactly how it happened and who is responsible. To get the trusted, professional legal help you need, call (503) 546-3167 today or contact our office online and request a consultation.